Austin, TX has one of the most thriving food trailer scenes in the country.  Food trailer "Parks" are popping up all over the city: from South Congress to the old hanger at the Mueller development to Barton Springs.  They're evening migrating to more remote places like the North Austin Trailer Yard, Round Rock, Pflugerville, Avery Ranch and now Georgetown.

These mobile, culinary trucks are not only found at dedicated parks, they're also providing amazing, worldly cuisine at several well-known events like: Art City Austin, SXSW and Austin City Limits music festival.  They even have their own event called the Gypsy Picnic.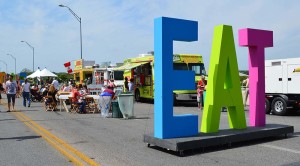 Food trailers come in the forms of trucks, carts, wagons or other miraculous mobile forms.  They allow us to experience inventive cuisines, different cultures, and funky fusions all within our own city.  Food trucks span a wide range of tastes such as: BBQ, Mexican/Korean fusion (Chi'Lantro), Argentinean (mmmpanadas), sub sandwiches (Short Bus Subs), sushi (Sushi A-Go-Go), sweets (Hey Cupcake) and much more.
It's a great experience with a wonderful way to see different parts of town while satisfying everyone's appetite.
Check out these sites to find out more about the food trailer scene:
http://www.foodtrailersaustin.com
http://www.bestaustinfoodtrucks.com
From a CultureMap article: http://austin.culturemap.com/news/restaurants-bars/02-02-14-food-network-austin-food-truck-faceoff-new-show/
The food truck scene in Austin is so hot, in fact, that Food Network is scouring the city to find would-be food truck entrepreneurs for a new TV show called Food Truck Face Off.
Casting professional Brad Burton said he's seeking eight "dynamic duos" in Austin who've never owned a food truck or restaurant. Those duos could include home chefs, line cooks, foodies, bakers or recent culinary school grads.
"The teams should be duos with great chemistry and a shared desire to co-own their very first food truck," according to a casting notice for the show.
"We are looking for everything from great ideas to branding to fun, outgoing people with a great idea for a food truck," Burton said.
Four teams will square off in each of two Austin episodes. The prize? A one-year lease on a customized food truck.