Austin's success and popularity is not a secret.  It seems like, almost weekly, we're in the news for being a great place to invest, own a home, look for a job or enjoy the outdoors.  Recent articles talk about Austin as one of the best places to visit and enjoy our culture and cuisine.
Fundamentally, Austin's a great place to invest because it's the state capital of Texas and home to the University of Texas.  We have no state income tax and low unemployment.  In regards to geography, Austin is in the middle of the country and only a two hour drive to three of the largest cities in the country: Dallas, Houston and San Antonio.  We also have fantastic weather with very mild winters.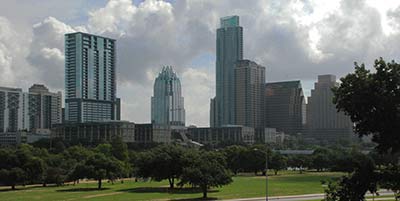 We're home to famous musical festivals like SXSW and ACL.  And now international travelers are discovering Austin with the addition of the new Formula One Grand Prix.
I can help you invest, purchase or sell property in the Austin area.  I would be happy to help you start the process.  (512) 554-5888
Technology and Jobs
Austin's job market is thriving.  It is a main reason why so many people are moving here.  According to the recent census numbers, Austin is the third fastest growing city in America.  About 150 people a day move here.  Round Rock was ranked No. 2!
Companies are moving here too.  Apple is building a huge $304M campus in NW Austin and plans to bring up to 3,600 new jobs to Austin.  Recently, a well-known economist said that Apple might overtake Dell as the area's largest employer.
General Motors Co. is hiring 500 for its new technology center and other large technology companies such as: Samsung, IBM, AMD, Facebook, VMware and Dell have a large presence in Austin and keep our area thriving in regards to jobs.
Forbes also ranked Austin No. 1 on its list of the best big cities for jobs.
http://www.forbes.com/sites/joelkotkin/2012/05/01/the-best-cities-for-jobs-2/
Austin is Active
Austin is an extremely active community.  We have world class mountain-biking where you can leave directly from your downtown loft and bike miles and miles of challenging greenbelts.
We have huge lakes located just minutes from downtown.  On Lake Travis and Lake Austin you can do just about any water activity including: waterskiing, wakeboarding, jetskiing, sailing and fishing.  The best part – you don't have to wear a wetsuit!
Centered in the middle of downtown, you can kayak, canoe, rent a paddle board or just run around Lady Bird Lake.
Barton Springs is an enormous, beautiful spring-filled pool located on the grounds of Zilker Park.  It has a comfortable winter temperature of 68 degrees and summer temp of 71.

With all of these natural elements, it's no wonder Austin was recently ranked in the top 10 fittest cities in the US.
http://www.mapmyfitness.com/intel/fittest_of_the_fit/oct2012/top/cities/large/7/
Top Rankings for Austin
Of course this is not just my opinion. I've compiled a list of recent articles that include Austin in the top of their lists:
According to Realtor.com, Austin came in as #2 as one of the top investment markets in America!
http://www.inman.com/news/2012/03/23/top-10-markets-invest-in
Austin, #1 Best Cheap Place to Visit
http://www.foodandwine.com/slideshows/best-cheap-cities-to-visit/2
Austin is a top place to retire
http://finance.yahoo.com/news/the-10-best-places-to-retire.html
http://money.cnn.com/gallery/retirement/2012/10/16/best-places-retire.moneymag/5.html
The No. 2 hotspot in the United States for technology startups is Austin, according to a list compiled by Payscale.com
http://www.payscale.com/it-jobs
Austin has moved up one spot on a list of the largest cities in the United States, replacing San Francisco at No. 13. The Capital City had 820,611 residents on July 1, 2011, according to U.S. Census Bureau data. That's up from 790,390 in 2010.
Contact me to discuss your investment opportunities.  ryan@austininvestmentrealty.com