As more people move to Austin, officials say growing pains possible
The City of Austin could go through some more growing pains as more people come to call Central Texas home, according to city and housing officials.
According to demographic information from the City of Austin, the city's total area population is expected to increase from 824,205 in 2012 to about 1.09 million in 2030 and to about 1.28 million by 2045. Three areas that could be affected by this increase are housing, water and wastewater service, and the city's parks.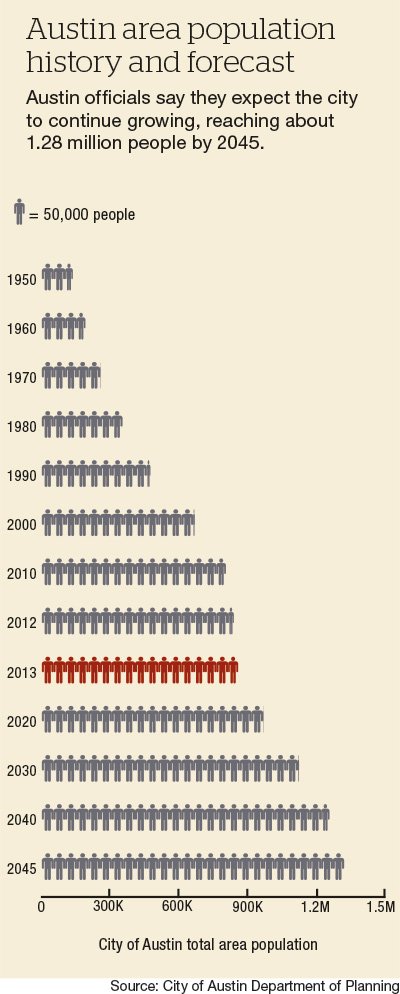 Housing
Eldon Rude, director of the Austin market at the housing market research firm Metrostudy and a speaker at the 2013 Austin Housing Forecast, said the housing market in Austin seems like it will continue to recover because of the area's job growth, a tight rental market and low home inventory.
"My expectation is … as we move into 2013, we see a continuation of that recovery somewhere between 10 [percent] and 20 percent [in home starts]," Rude said. "So we go from 8,000 to 9,500 [to] possibly as high as 10,000 starts."
A home start is the beginning of construction on a new house. According to information from Metrostudy, the Austin new home market saw 7,981 annual starts for detached housing as of the fourth quarter in 2012.
Rude said along with new detached homes, the city has seen an influx of urban and suburban apartment construction as demand increases. Rude expects that it will take a couple of years for those units to finish construction and become available, keeping rental rates high. According to information provided by Austin Investor Interests, an apartment market research company, rent rates have increased 12 percent since 2010.
"It's very tight out there, whether you [are] renting apartments or renting homes," Rude said. "Obviously, with so much demand for apartments, we're going to see a lot of apartments built over the next two, three and four years."
See entire article at: http://impactnews.com/articles/city-expects-continued-population-increase/